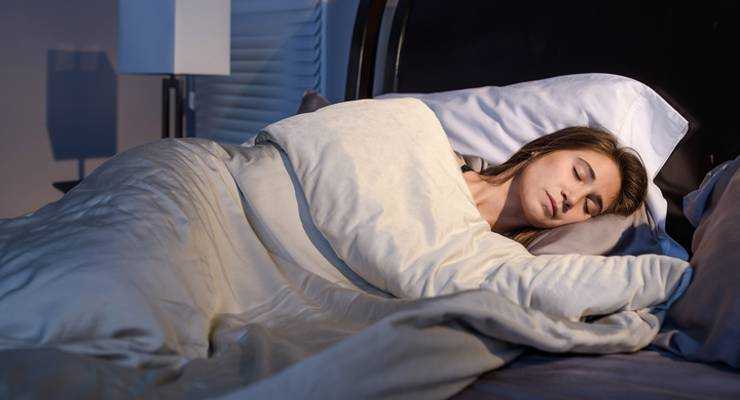 Because of their ability to ease insomnia and fight anxiety, weighted blankets have only continued to grow in popularity over the past few years. However, for those who get hot at night or live in warmer climates, the idea of sleeping under a heavy blanket is less than appealing. For individuals who need help staying comfortable at night, cooling weighted blankets may be a good option.
The list of cooling weighted blankets is always growing thanks to materials like bamboo, eucalyptus, and good old faithful cotton. Glass bead fillers can also help a weighted blanket maintain a cooler temperature.
Even though the idea of a heavy weighted blanket may seem counter-intuitive to the cooling features that many offer, some of these options may make all the difference to someone who is needing to cool off and get a good night's sleep.
When choosing the right cooling weighted blanket, do not assume that weight equals heat. We have discussed this in detail in our Are weighted blankets hot article.
Remember that, to be effective, weighted blankets should be slightly more than 10 percent of the user's weight. If a 160-pound adult opts for a 10-pound blanket from fear of getting overheated, that consumer will likely never experience the deep touch pressure benefits that weighted blankets offer.
Instead, pay attention to materials. Avoid fleece, flannel, or even minky fabrics. Choose a blanket with a breathable cotton blend if you sleep hot.
Also, try to avoid blankets with extra filling or polyester layers outside of the beads or pellets. Generally, glass beads stay cooler than plastic pellets, so stay away from blankets with plastic filler. Opt for a cotton blanket that only has micro glass beads without extra stuffing.
Finally, try skipping a cover. Although they are handy for maintaining and cleaning a weighted blanket, some of those convenient covers are adding an extra layer of heat. If using a duvet, try selecting one that is a lightweight, quality cotton blend.
We found some of the most popular and best cooling weighted blankets to see what advantages and disadvantages they have to offer.
Best Cooling Weighted Blanket Reviews
Luxome Cooling Weighted Blanket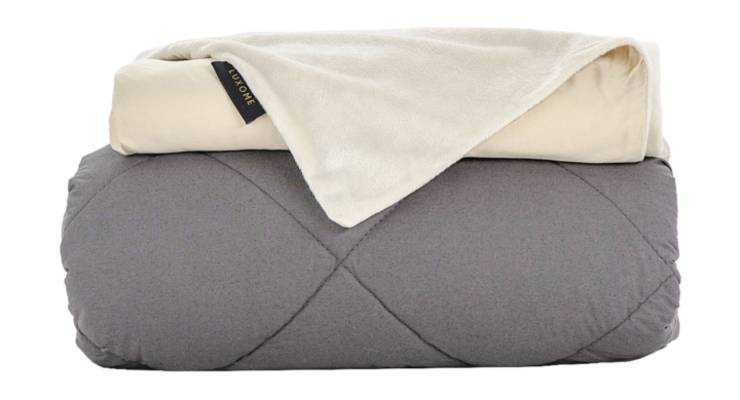 This product from Luxome is a higher-end option with a removable bamboo / minky cover available in nine different sizes and four different colors.
The Small size is 42" x 56" and eight pounds in weight. The Medium size is 54" x 72" and 15 pounds in weight. The Large size is 60" x 80" and weighs 18 pounds while the largest size, Extra Large is 100" x 85" and weighs 30 pounds.
These luxury weighted blankets come with an Oxford carrying tote in addition to their removable covers.
The tiny glass bead fillers are also certified lead free. The high-quality fabrics are made with 300 thread count bamboo and combination bamboo/minky materials.
In addition to the impressive features the Luxome has to offer, this product is completely machine washable, although it may be a good idea to let it air dry.
The fabrics used are also thought to be moisture controlling and thermal regulating, as well as anti-bacterial and anti-microbial. The bamboo fabric is made from high-quality Lyocell bamboo as opposed to the more commonly used viscose bamboo.
All of the luxurious features can come with a price, though - literally. This Luxome product may be one of the pricier options available on the market.
Pros
High-quality materials
Made with anti-bacterial and anti-microbial materials
Includes a duvet and tote
Is machine washable
What Customers Had to Say
This product has quite a bit of positive feedback, with customers reporting they got better sleep than usual with the Luxome and that is was the best WB they had ever used. It also receives high ratings in softness and comfort. However, in contrast to the hundreds of good reviews, a handful of consumers were not happy with the product.
Gravity Cooling Weighted Blanket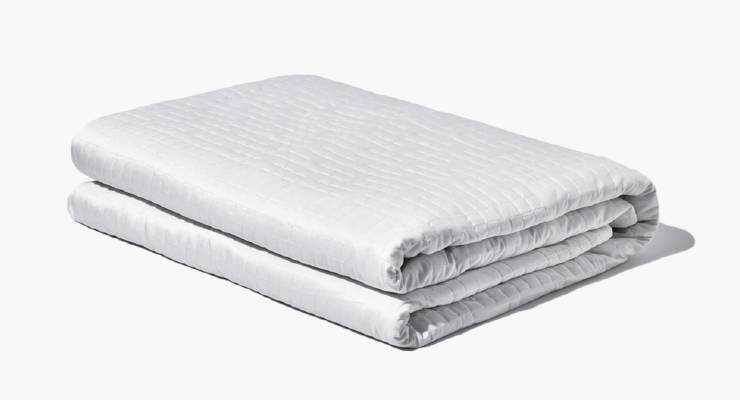 This weighted blanket is a variation of the original Gravity Blanket, but this cooling blanket features a cooling fabric designed to pull moisture away from the body.
In addition to the special cooling materials used for the cover, the Gravity Cooling weighted blanket has glass bead fillers which are often a good option as they stay cool to the touch and do not radiate heat.
This cooling blanket is available in "Single" size (72"x 48") at 15, 20, and 25 pounds and "Queen/King" size (90"x 90") and weighs 35 pounds.
It is available in the same colors as the traditional Gravity blanket: gray, navy, and white. The blanket also features internal ties with elastic-button connectors that can be easily attached to a duvet and keep the blanket properly in place so that the weight remains easily distributed.
Pros
Contains glass bead filler which can promote a cooling effect
Includes clasps that can be securely attached to a duvet
Multiple size and color options
Cons
The blanket is hand-wash only and should only be air-dried
What Customers Had to Say
As far as reviews are concerned, most of the customer feedback is positive with consumers reporting that this weighted blanket eased anxiety and insomnia symptoms more than other blankets. Others reported that this blanket helped them fall asleep faster and sleep longer overall. However, some customers reported that this weighted blanket was not cooling enough for hot sleepers.
ZonLi Bamboo Cooling Weighted Blanket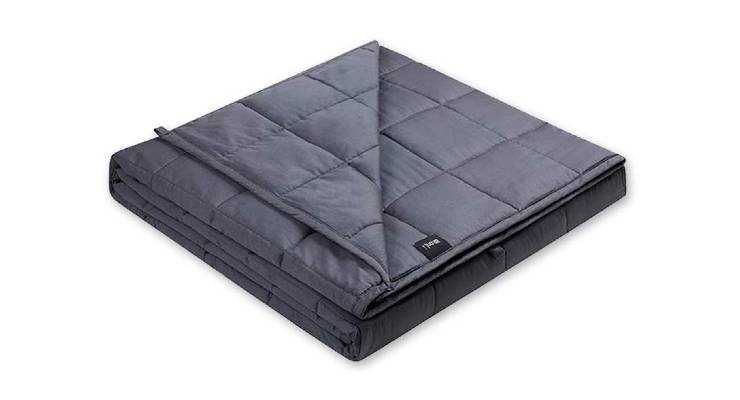 The ZonLi Cooling Weighted Blanket is made from viscose bamboo fibers, which are typically known in the weighted blanket world for acting as a cooling material.
The fibers in bamboo can be good at keeping moisture off the body and allowing good airflow.
It is available in a variety of sizes. The smallest potion, 41" x 60" and weighing 7 pounds, may be a good choice for a child. The largest option is 80" x 87" and is 25 pounds.
Duvet covers are also available and bundle deals may be available if the blanket and duvet are purchased together.
Loops located on the blankets can attach to the duvet to ensure the weighted blankets stay in place and that the weight remains evenly distributed.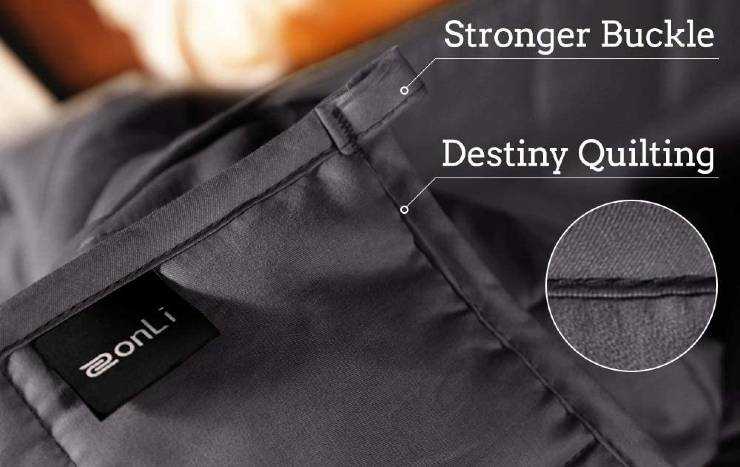 ZonLi also has 24-hour customer service available.
However, it does not look like there might not be a warranty option available. There are not any specific washing instructions listed, so we recommend defaulting to the weighted blanket washing standard: hand wash or wash in a machine on a gentle cycle with cool water and air dry.
Pros
Wide range of sizes and colors are available
These blankets are competitively priced, making it an affordable mid-price range option
Cons
A warranty does not seem to be guaranteed, although there is a 24-hour customer service department available
What Customers Had to Say
This blanket seems to be crowd-pleasing, overall with most hot sleepers and insomniacs giving the blanket high ratings in both comfort and softness. However, two individuals noted problems with poor stitching.
Luna Cooling Weighted Blanket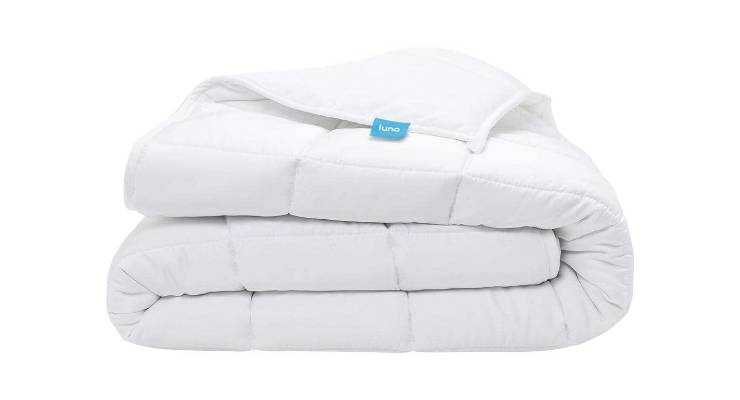 The Luna Cooling blanket also features a bamboo fiber exterior that is designed to promote good airflow.
It also boasts of being environmentally friendly, hypo-allergenic, and thermo-regulating.
Another bonus for this blanket: it can be washed in a standard washing machine on a low, gentle cycle and may be either dried in a dryer with low heat or air-dried.
In addition to having a viscose bamboo exterior that is moisture-wicking and machine washable, this blanket is available in 14 different sizes and weights, including a 5-pound child option.
The largest available size is 80" x 87" and weighs 30 pounds. This option is also competitively priced, making it one of the more affordable options. Of course, the price varies depending on the size and weight selected.
Pros
A wide selection of sizes, weights, and colors are available
Eco-friendly and hypo-allergenic
Competitively priced
Cons
May not be machine washable
What Customers Had to Say
Most consumers reported that Luna helped with them fall asleep faster and eased some of their symptoms of anxiety. Others reported that the blanket stayed in place well within the duvet and called it the best weighted blanket they had ever used. However, one customer reported a bad experience with the customer service department at this company.
Moonbow All Season Weighted Blanket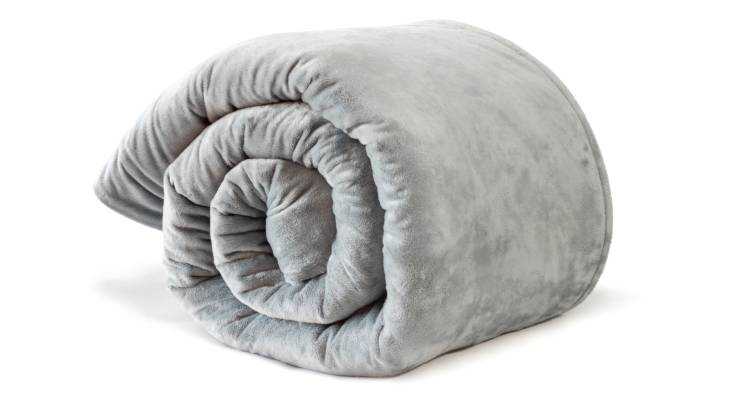 The Moonbow All-season blanket advertises itself as being exactly what the name implies: a weighted blanket for all seasons.
This may be particularly appealing to individuals who are hot sleepers when the weather is warm but need extra heat in the winter.
This product has features to accommodate each season: one side is made with cooling bamboo fibers for those who don't what to feel burdened by extra warmth at night, while the other side is made with polyester and can keep the sleeper warm and cozy on cooler nights.
The Moonbow blanket also comes with a micro-plush duvet that can offer an extra layer of comfort and coziness.
The glass bead fillers may also make this product of the best cooling weighted blankets since these tiny beads stay cool and do not radiate heat.
This array of features also comes with a higher price tag, though. This product seems to be in a higher price range than many other of the best cooling weighted blankets.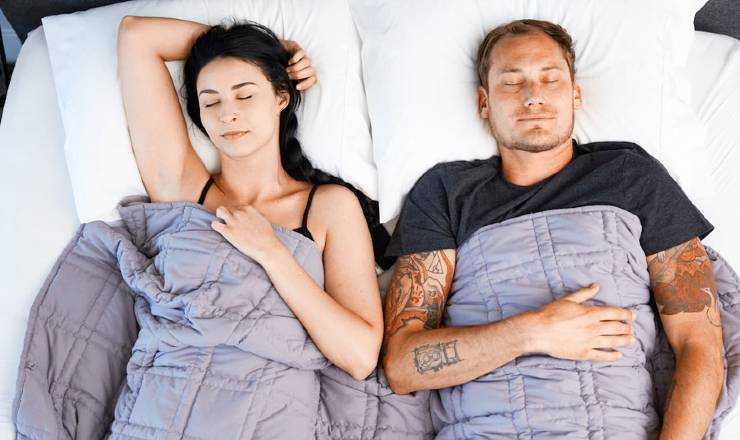 There are only two size options: 15 and 20 pounds. The cover is also only available in two colors: blue and gray. The Moonbow has a 30-day return policy, but the company cannot ship the product outside of the U.S.
Pros
Features available that accommodate all seasons
Includes a duve
Cons
Few sizes and weight options
What Customers Had to Say
This product does not seem to have many reviews yet, but the customers who did take the time to offer feedback seemed to think it was one of the best cooling weighted blankets they had used.
YnM Cooling Weighted Blanket with Bamboo Viscose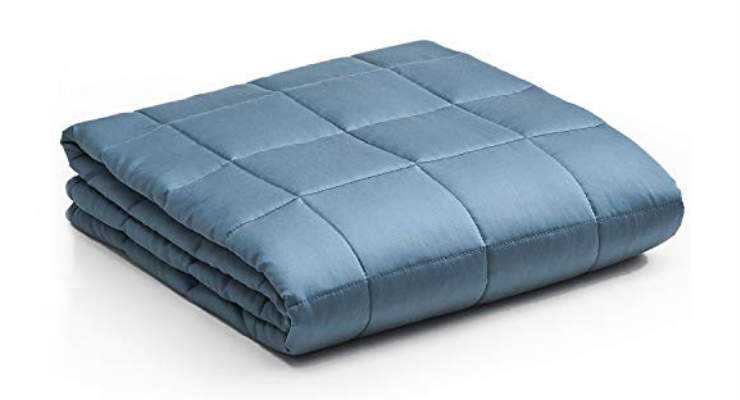 The YnM Cooling Blanket with Bamboo Viscose is an Amazon best-seller with hundreds of happy ratings.
Materials
This blanket features breathable SMART fabric and micro glass beads that are distributed evenly in quilted pockets.
The bamboo viscose fabric is 300 thread count that is advertised as staying cool to the touch and does not feel like hot at all. The YnM Cooling Blanket also features moisture-wicking management that helps perspiring sleepers stay cool and dry.
Features
The YnM Bamboo blanket has an excellent price point on Amazon and is available in a range of sizes. The available weights are 7, 10, 12, 15, 20, 25, 30 pounds and the measurements include 41"x 60", 48"x 72" and 80"x 87", respectively.
This blanket is available in a variety of colors and includes one bonus bamboo cover in a shade called Sea Grass.
There are two extra layers of breathable cotton inside the blanket to help prevent leaks. YnM attests that this cooling weighted blanket is virtually leak-proof and offers a 100% satisfaction guarantee.
Even if an accident occurs, the manufacturer will mend the blanket for free as long as it is within three years of the purchase date!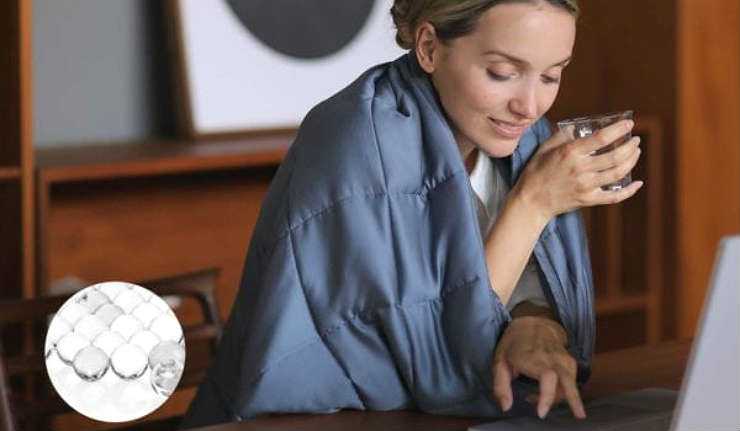 Pros
High-quality materials
Competitive price point
Cooling fabric
Satisfaction guarantee
Includes one bonus duvet
Cons
A few customers had isolated shipping issues
Some customers experienced a leak in the blanket
What Do Customers Say?
The blanket does sound impressive, so we took a look at some of the reviews to see how customer experiences who sleep hot lived up to the bold advertising.
Hundreds of customers seemed to be more than happy with this blanket, raving about its luxurious feel and cooling fabric.
One customer with chronic pain and anxiety slept through the night without the aid of sleeping pills for the first time in 15 years! Others reported that the bamboo fabric feels cold at first, but warms to the body's temperature quickly without getting hot. Overall, the experiences sound positive.
There were a few negative ratings we noticed, though. One customer was sent the wrong measurement and another did experience a leak in the blanket.
CoziRest Cooling Weighted Blanket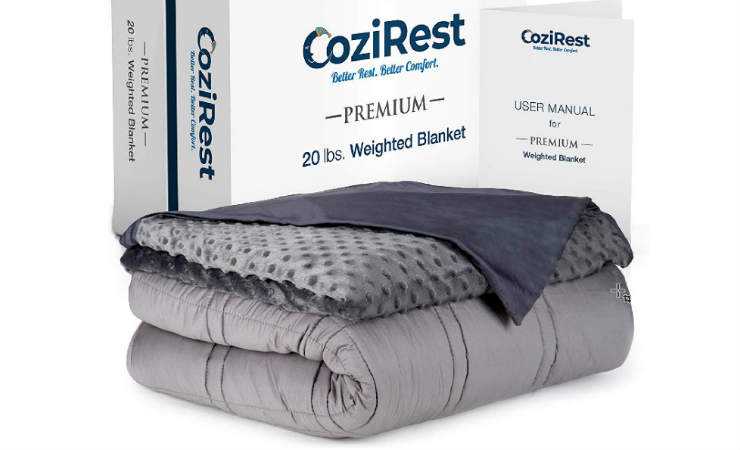 The CoziRest Cooling Weighted Blanket, interestingly, employs bamboo to keep things cool.
Materials
This blanket features seven layers of all-natural 400 thread count cotton and micro glass beads. While we typically advise against too many inner layers in a cooling blanket, these are made from breathable cotton materials that promote good temperature control. The outside of the blanket features a bamboo material that stays cool to the touch and keeps hot sleepers from becoming uncomfortable.
Features
The CoziRest uses double stitching along the grid pattern to help protect against leaks. This blanket also includes a two-sided duvet cover in its price. One side is a cool bamboo material and the other is a cozy minky fabric.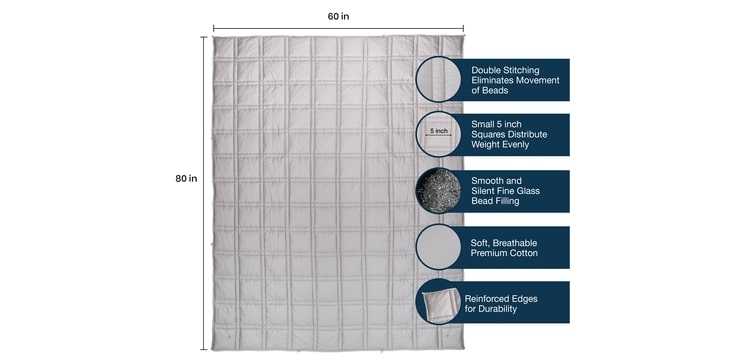 There are a dozen ties along the edges of the cover which helps keep the blanket securely in place without bunching up inside. The cover can be easily removed and tossed into the washing machine.
Weight and Size Options
The CoziRest comes in a dark gray color and is available in a wide variety of weights. The weight increments include 12, 15, 20, and 25 pounds, all varying in price. All of the weights come in one size: 60"x 80".
The manufacturer also backs every CoziRest blanket with a one year warranty.
Pros
Good/competitive price point
Includes duvet
Layers are made from breathable material
Quality materials
Cons
No variety of colors and design
Not available in a wide range of measurements
What Do Customers Say?
Hundreds of happy customers expressed their satisfaction with the CoziRest, gushing about its quality and luxurious feel. Most consumers report staying cool and getting the best sleep they have had in years. A few customers did not stay as cool as they had hoped and some found the ties for the duvet too tedious.
Buyer's Guide
Do Weighted Blankets Make You Hot?
While it makes sense that these unique blankets with weights that can tip the scales at 30 pounds would only make nights more difficult and sleep more elusive, that does not have to be the case.
When someone is suffering from dis-regulated body temperature or just sleeping in a warm climate, the last thing they need is a big dose of anxiety or insomnia that adds insult to injury.
The good news is there are a variety of factors and options that can be utilized when searching for the best product to achieve the best sleep. Click here to read more about this topic.
What to Look For In a Cooling Weighted Blanket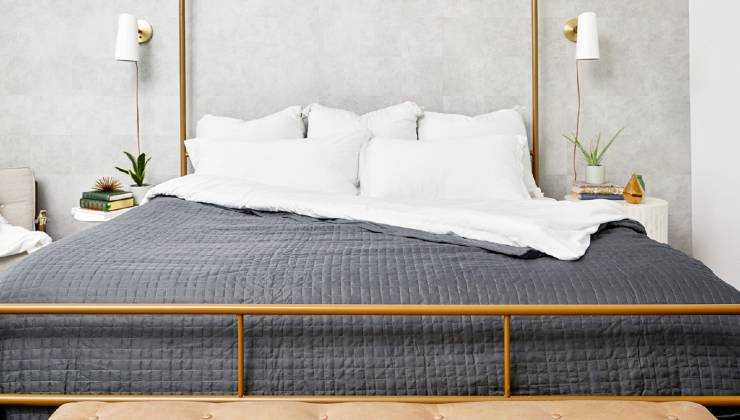 We have reviewed the best weighted blankets on the market today, but when it comes to summer and the need for that cooling effect, there are specific factors to consider.
The Right Fabric
When looking for the right product to naturally promote good sleep patterns and habits, it is good to remember that the materials and fabrics used can make all the difference.
Try looking for breathable materials like bamboo, eucalyptus, and cotton which can help regulate body temperature and reduce moisture.
Generally try to avoid hot fabrics like polyester, fleece, or flannel.
The Right Filler
Regarding the right fillings, it is usually a good rule of thumb, when searching for the coolest blanket, to stick with glass beads as opposed to plastic pellets.
Glass beads stay cool and do not hold heat, making it easier to keep temperatures regulated.
The Right Weight
Try to use 10 percent of the bodyweight plus one to two pounds as a standard for choosing the right blanket.
We have also created a weighted blanket weight chart so you can find the right weight in a second.
A blanket that is not heavy enough will probably not impose the correct amount of tactile pressure that is needed for a blanket with weights to work.
On the other hand, if it is too heavy, it will probably result in overheating.
No one can get good sleep or respite from anxiety symptoms if they are physically uncomfortable. That is why having the correct weight evenly distributed over the body is so important.
The Right Care
Many products can only be hand-washed, or if they can be machine washed, they have very specific instructions for care.
Be sure to check the manufacturers' instructions for care and cleaning, as placing the wrong blanket in the wrong washing machine or dryer setting can ruin the blanket weighted with pellets.
If no specific instructions can be located, it is best to hand wash the blanket and let it air dry.
See more in our How to Wash a Weighted Blanket guide.
The Right Price
There is a wide variety of options in different price ranges.
For someone new to the world of weighted blankets who just wants to try one first, it may be best to go with a less expensive option so that if different sizes and weights are needed, it will not be as expensive to change.
For the devoted consumer of weighted blankets, however, it may make more sense to invest in a high-quality blanket of the correct weight.
Many individuals have found that the investment in a WB helps offset some of the physical, mental, and financial stress that often accompanies conditions like insomnia and anxiety.
If purchasing a WB is just not in the budget, maybe a DIY option would be a better fit.
Conclusion
When shopping for (or crafting) the right weighted blanket, remember the 3 M's:
Materials (the right fabric and filler)
Maintenance (the right care regarding washing, storing, and transporting)
Money (finding or making the right product for the right price)
Overlooking any of these areas can drastically alter an individual's experience with weighted blankets.
Even on hot summer nights, the benefits of using a good weighted blanket can outweigh the potential drawbacks.
Rather than shy away from the idea of a weighted blanket in warmer weather, take a look at the cool options (pun intended!) available and start working toward a goal of better health through better sleep.