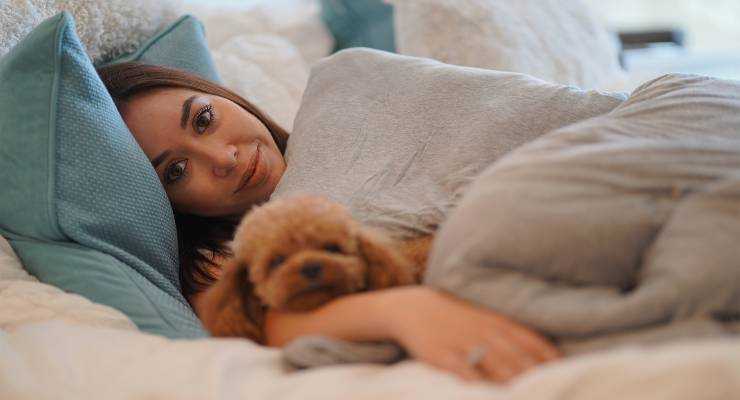 As more individuals are discovering the plethora of health benefits that accompany weighted blankets, people are also searching for blankets made with quality materials that provide extra comfort.
Heating and cooling features, less bulk, organic and breathable materials are common qualities consumers are looking for in a weighted blanket.
When searching for the right weighted blanket, Weighted Evolution may be a great company to consider. They offer luxurious weighted blankets made from premium bamboo materials for optimal comfort and eco-friendly status.
What Are Weighted Evolution Blankets?
Weighted Evolution is a weighted blanket manufacturer that has been producing their blankets for nearly a decade. According to their website, they are a family-owned company committed to bettering the lives of their customers through the multitude of mental, emotional, and physical benefits that weighted blankets offer.
Weighted Evolution is unique in that their blankets come with duvets made with organic bamboo, which helps with temperature control and is also environmentally friendly. Let's take a look at the blankets Weighted Evolution has to offer.
The Original Bamboo Blanket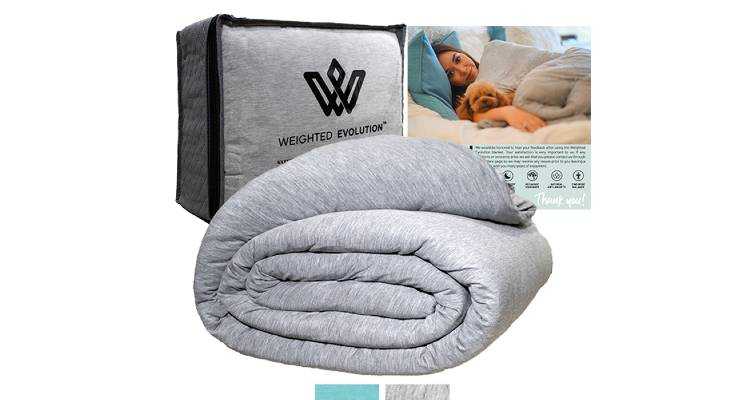 The Original Bamboo Weighted Blanket consists of a microfiber inner weighted blanket and a 100% organic bamboo stretch-knit outer duvet.
Tiny glass beads provide the weight for the blanket and are contained in four-inch double-stitched reinforced pockets to help prevent the weight from shifting or the beads from leaking.
The bamboo materials used for the outer cover help pull moisture away from the body and are some of the most breathable cooling materials used for weighted blankets. These features may make it a great option for hot sleepers who struggle with overheating easily at night.
The bamboo exterior is also hypoallergenic and easy to maintain. The cover features a discreet 60-inch zipper which helps protect the blanket from dirt and stains. The duvet can be easily removed and tossed into a household washing machine or dryer on a gentle cycle.
The cover also comes with extra loops and ties that help secure it to the blanket, fitting snugly.
The Original Bamboo blanket comes in five different sizes. The 60" x 80" blanket comes in 15 and 20 pounds. The 80" x 87" blanket is 25 pounds. Two smaller options include the 41"x 60" which is 8 pounds, and the 48" x 72" which is 12 pounds. These blankets are available in gray and turquoise.
The Sensory + Bamboo Blanket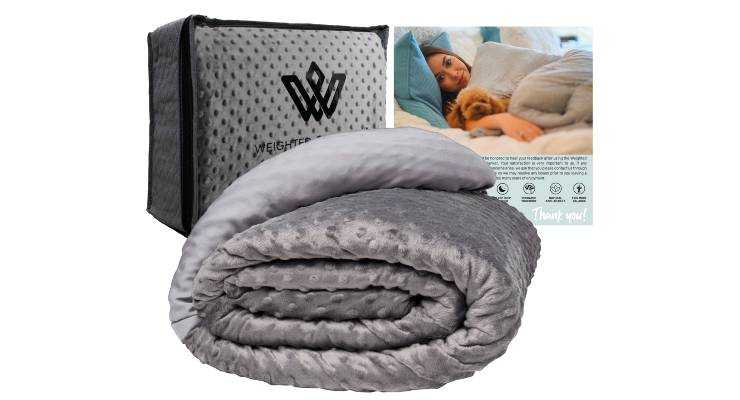 The Sensory+ Blanket features a luxurious cover that may make it a great option for some sensory-seeking individuals.
Like the Original Bamboo blanket, the inner weighted blanket is made with high-performance micro-fiber and filled with tiny glass beads which are stitched into reinforced pockets. The design may prevent the weight from shifting while also reducing the risk of leakage.
The difference between these two blankets is in the duvet. The removable cover of the Sensory + Blanket has a 2-in-1 design that features a lightweight minky fleece with sensory dots on one side and 100% organic bamboo lyocell on the other side.
The bamboo material still provides the moisture-wicking and temperature control it is known for, and the minky side provides sensory input and warmth.
This blanket can be considered an all-season weighted blanket because one side may be a good option for hot sleepers, and the other side may be a good option for individuals needing extra warmth.
The Bamboo + Sensory cover also features a discrete zipper that allows it to be easily removed and cleaned and is also washing machine and dryer safe.
This blanket comes in a variety of sizes and colors.
The 41" x 60" blanket is 8 pounds, the 48"' x 72" blanket is 12 pounds, the 60" x 80" blanket comes in both 20 pounds and 25 pounds, and the 80" x 87" blanket is 25 pounds.
The duvets are available in dark gray, navy blue, and white.
The Weighted Evolution Give Back Program
In addition to providing quality weighted blankets, Weighted Evolution also does a great deal to give back to the community.
The company has a Give Back Program in which they donate 5% of the proceeds from their weighted blanket sales to non-profit organizations that support individuals with mental and behavioral health concerns.
This company may sell blankets made with bamboo, but it seems their hearts are made of gold!
Customer Service and Return Policies
Weighted Evolution also appears to have an impressive customer service department. Customers can contact them via chat on their website 24 hours a day.
They also offer a 100-day money-back guarantee on all their products. One-time exchanges are also offered within 30 days of purchase.
Why Weighted Evolution? A Buyer's Guide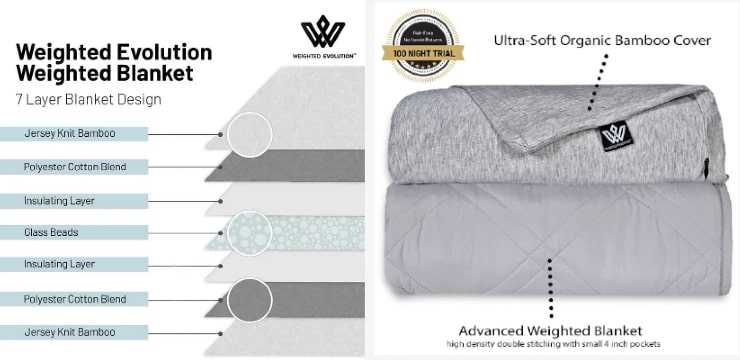 Eco-friendly
Weighed Evolution's bamboo blankets may be a good option for individuals looking for an environmentally friendly option.
The 100% organic bamboo materials make it alluring for the environmentally conscious.
Easy to clean
Because these blankets feature removable duvets, it may be easier to keep the blanket clean of dirt and stains.
The duvets can be washed in a washing machine and are also dryer safe. Weighted blanket maintenance should always be a primary consideration when deciding which blanket to purchase.
Less bulk
Weighted Evolution uses less poly-fill insulation to help keep the blanket less bulky, reducing the risk of overheating at night. Also, according to their website, reducing the insulation helps promote better deep touch pressure – the science behind how weighted blankets work.
The gentle, firm pressure of a weighted blanket can help soothe the central nervous system via the body's sensory pressure receptors. This can help reduce cortisol levels while promoting the production of serotonin and melatonin.
Having a thinner blanket with less insulation may help the body feel the intended weight, thus promoting the desired benefits.
Conclusion
When looking for the right weighted blanket that offers quality materials, all-season features, and a variety of sizes, Weighted Evolution bamboo blankets may be a great option.
Their organic covers and high-quality glass filler may make it a good option for individuals looking to stay cool on warm nights and warm on cool nights while also doing their part to protect the earth.
Good customer service policies and community give-back programs also add to the list of qualities Weighted Evolution offers. Consider taking advantage of their guarantee and trying one of the bamboo blankets on their website.