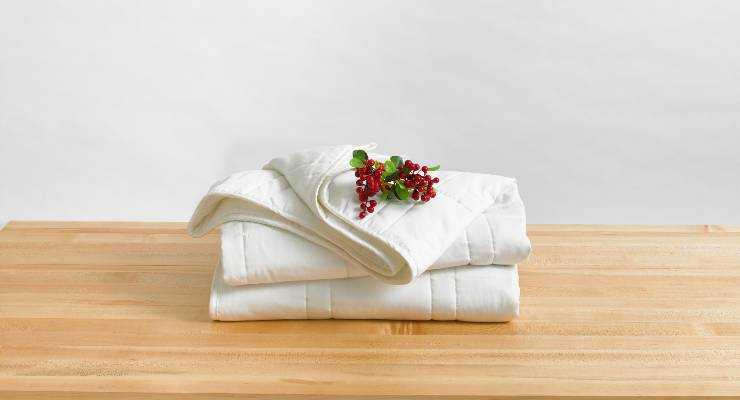 Baloo Living is a US-based company specializing in premium weighted blankets and comforters, with a product range including French linen covers and other sleep accessories.
They are members of the NYC Fair Trade Coalition (NYFTC) and the Ethical Brand Directory.
Baloo Weighted Blankets
Baloo is the only quilted weighted blanket made with 100% cotton - free from polyester and synthetic liners - for cooler sleep especially those who sleep hot.
The lack of polyester and synthetic liners allow for Baloo's blanket to be useful year round and in all climates.
The blankets are well-designed and quilt-like that can hold its own on your bed.
Their French linen duvet covers are sold separately, but come in a variety of colors. Matching pillowcase sets are also available.
Baloo's newest weighted comforter recently launched (see our review) and is great for those looking for the look of a traditional comforter.
The interesting feature of their comforter is that it's weighted with glass microbeads only where it counts: in the center, where it covers the top of the bed, rather than all the way to the edge. This not only feels more comfortable, but it also makes it lighter and easier to care for.
Materials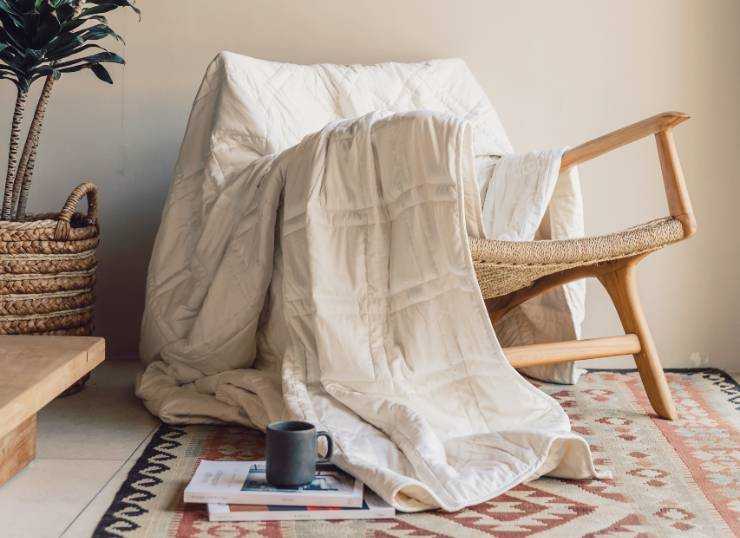 Baloo uses all-natural materials to construct their blankets and comforter.
Their blankets are designed with 100% premium cotton outer fabric and inner batting, which is soft, breathable, and durable.
While other brands are made using cotton on the outside, Baloo is the only option made without polyester and synthetic liners on the inside - instead they use cotton through and through.
Filling
The weight from the Baloo blanket is provided by lead-free glass microbeads sewn into "pockets".
These pockets are a mix of three geometric shapes, including smaller squares that keep beads from pooling, which give the Baloo blanket it's unique quilt-like look.
These pockets also keep the microbeads in place, which in turn, keeps them from being noisy.
Design and Features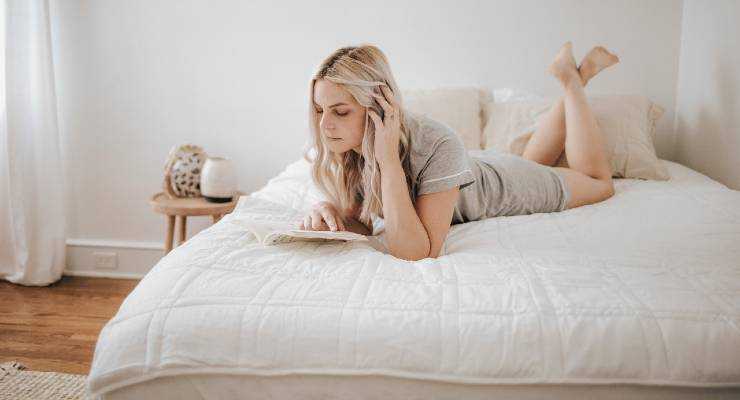 This blanket has a quilted design that keeps the filling compartmentalized and helps the weight stay evenly distributed as it conforms to the body's shape.
Baloo offers a 100% satisfaction lifetime guarantee and even offers exchanges or repairs if you experience a problem due to materials or workmanship at any time in the life of the product.
Baloo is reasonably priced compared to their competitors considering the high-quality materials and lifetime warranty.
Baloo offers a wide range of weights and sizes. The lightest weight is 12 pounds and the heaviest is 25 pounds, with 15 pounds and 20 pounds as other options.
Throws, Full/Queen blankets, King blankets, Full/Queen comforters, and King comforters are available.
The available measurements include 42x72", 60x80", 80x87, 90x90", and 92x108.
Their linen duvet covers and matching pillowcase sets are also available in a variety of colors, including white, oatmeal, dove grey, navy, blush pink, and charcoal.
Sustainability
For those looking for an eco-friendly weighted blanket, Baloo is committed to supporting environmental initiatives that offset their carbon footprint, in partnership with the Carbonfund Foundation and other nonprofits.
All of their packagings are plastic-free and their blankets do not contain any synthetic fibers or plastic pellets.
Their products are also certified vegan through the Vegan Awareness Foundation.
Baloo also partners with the Pajama Program to give at-risk children books and pajamas for a reassuring bedtime.
How to Care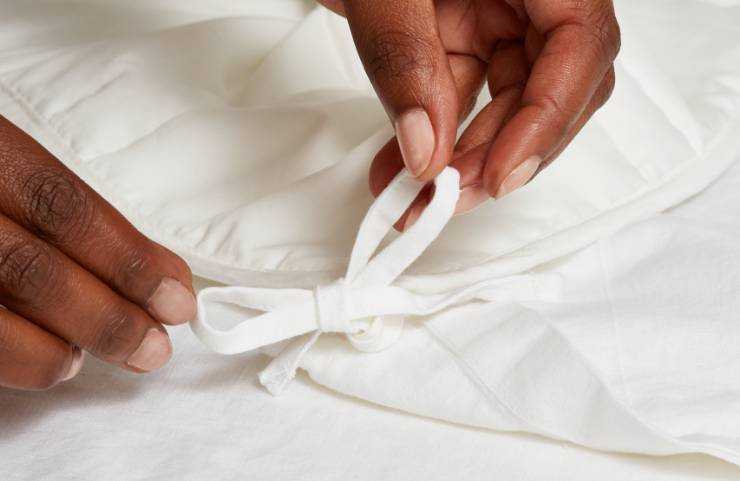 All of Baloo's blankets are machine washable. They recommend machine washing cold on a gentle cycle and tumble dry low.
They suggest checking on the blanket after 15-20 minutes in the dryer as the blankets dry surprisingly quickly.
The sturdy cotton, as well as cotton lining and cotton batting, make it possible to be machine washed.
It's noted that they recommend using a commercial machine for their 25lb blanket and the weighted comforters because of the larger size.
You can read further information on how to wash a weighted blanket here.
Returns and Exchanges
Baloo guarantees the quality of all of their products. They offer a lifetime guarantee so if you experience a problem due to materials or workmanship at any time in the life of the product, contact Baloo so they can repair or replace your purchase.
However, if you are not completely satisfied, you may make a return for an exchange or refund within 30 days of delivery.
Giveback Programs
Baloo is a member of the
NYC Fair Trade Coalition
and the
Ethical Brand Directory
.
These grassroots organizations exist to support fair trade and sustainability throughout the fashion industries in the US and the UK.
They are a carbon-neutral company and invest in projects to offset their carbon footprint through the
Carbonfund.org Foundation
.
Project portfolios are third-party certified, world-class initiatives focused on reforestation, education, carbon credits, and more.
Baloo also partners with the Pajama Program, who works through 4,000 community partners across the US - from shelters and group homes to foster care agencies - to provide a pair of pajamas and inspiring bedtime books to help children and their caregivers create a reassuring bedtime.
What do Customers Say?
Customers seem to be very happy about their experience with Baloo. When considering a weighted blanket purchase, a common question is "Will it make me hot?" Baloo's customers say, "No!". We've covered earlier in details: are weighted blankets hot?
The lead-free glass microbeads provide the weight and the 100% cotton material allows the blanket to keep cool. Customers are also able to machine wash their blankets with no problems.
Many reviewers like Baloo for their excellent customer service.
They offer a chat on their website, a phone line where you can call or text, and support via email.
All customer service representatives are real people located in the United States, which makes it very easy to get size/weight recommendations or ask questions.
All-natural materials, cool temperature, easy maintenance, variety of weight and size options, good price point, gift ability, lifetime warranty, and excellent customer service make this blanket the overall winner.
Summary
Pros
All natural materials
Cool & breathable cotton for every season, great for hot sleepers
Good variety of weight & size options: throws, blankets, and comforters
Machine washable
Excellent customer service
Fast & Free Shipping
Lifetime guarantee
Cons
Only comes in white as the color option