Despite their sudden fame, weighted blankets are no new phenomenon. Therapists have been using weighted blankets for decades to help manage sensory overload, anxiety, and insomnia for children living on the autism spectrum.
Claims that weighted blankets also ease symptoms of ADD, ADHD, Depression, PTSD, Restless Leg Syndrome (RLS), and other conditions have only propelled the blankets to further popularity.
With so much to consider and so many potential weighted blanket benefits available, we wanted to round up some of the most popular options available on the market today and see what advantages and disadvantages different brands can offer.
Best Weighted Blanket for Adults
The American Psychiatric Association reported that a shocking 40 million adults in the U.S. suffer from an anxiety disorder. As we mentioned above, anxiety often affects an individual's ability to fall asleep and stay asleep. As a result, millions of Americans are turning to adult weighted blankets.
Here are the top picks.
Quility Premium Adult Weighted Blanket & Removable Cover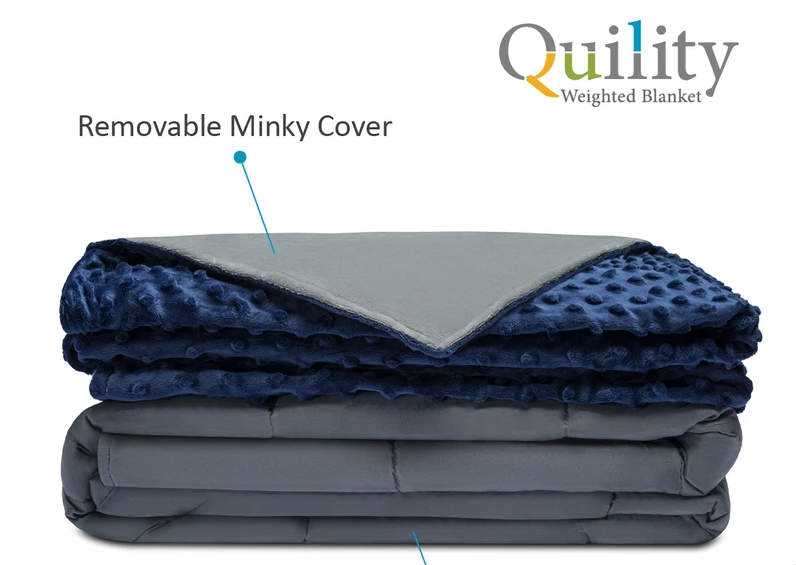 The Quility Premium Adult Weighted Blanket and Removable Cover features seven layers of quality, breathable materials, offering an impressive level of comfort. The outer layer is 100 percent cotton and the blanket is lined with one layer of polyester padding and two layers of glass beads.
Cover
This blanket comes with a minky duvet cover that can be removed and washed easily in a washing machine. The duvet cover can offer an extra layer of warmth for cool sleepers or be removed for hot sleepers since it features zippers and strings which are easily tied and untied from loops along the blanket's edges.
Filling
Glass beads act as an excellent, organic filler for weighted blankets and the multi-layered design of the Quility Premium makes leaks almost impossible. The manufacturer offers a 100% satisfaction guarantee with a full refund to customers not completely satisfied with their purchase.
Features
The blanket set is available on Amazon at a competitive price point and comes in dark gray and light gray. There are several color options for the minky cover, though, including navy, pink, aqua, and ivory. The available weight options start at 5 pounds and go up to 25 pounds. Available measurements are 36'x 48", 41"x 60", 48"x 72", and 60"x 80".
What do customers say?
Verified customers were mostly happy with their purchase of the Quility Premium blanket. Many reviews noted that the duvet stays securely in place. Another perk the Quility offers is that lush, minky cover which is included in the price. And who does not want to fall asleep feeling that minky soft touch?
This blanket's glass filling is evenly distributed throughout the blanket in square pockets and most customers noted that the fillings do not shift to the edges of the blanket and, instead, stay evenly in the grid like they are supposed to. A few customers, however, did feel the weight shift after several uses.
Here's a summary of what we found:
YnM Weighted Blanket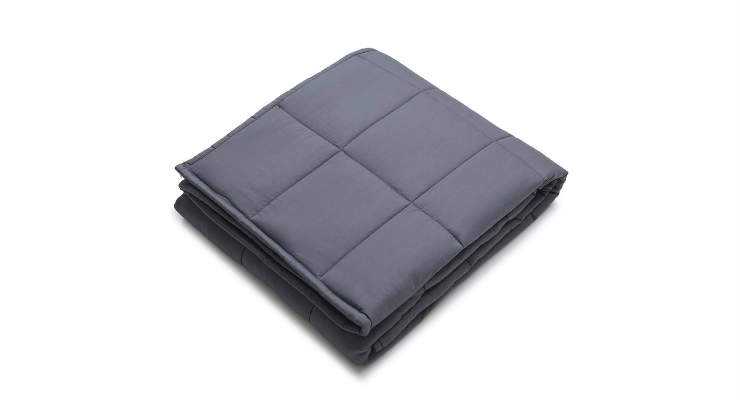 Another best-seller, the YnM weighted blanket is made with 100% cotton and glass beads. The YnM is competitively priced, but it does not come with a duvet included in the price. A compatible cover can be purchased from the same manufacturer, though.
Filling
All the weight from the YnM blanket comes from the glass beads, eliminating the need for extra cotton filler within the layers. This offers better temperature control for hot sleepers.
Features
This blanket also has a quilted design that keeps the filling compartmentalized and helps the weight stay evenly distributed as it conforms to the body's shape.
The manufacturer also offers a 100% satisfaction guarantee and even offers free repairs for three years after purchase if the blanket is accidentally damaged during that time.
The YnM has a starting price that is cheaper than many competitors and is available in a wide range of weights and sizes. The lightest weight is five pounds and the heaviest is 20 pounds. Other increments are 7, 10, 12, 15, and 17 pounds.
The available measurements include 36"x 46", 41"x 60", 48"x 72" and 60"x 80". This blanket is also available in a variety of colors, including dark gray, navy, and ivory, and some whimsical animal prints like woodland animals (listed as "Deer") and penguins.
What do customers say?
For the most part, customers rave about their experience with the YnM 2.0. When considering a weighted blanket purchase, a common question is, "Will it make me too hot?" The general consensus with the YnM is, "No!"
The premium glass beads provide adequate weight without needing extra filler that often adds heat. Several customers were also able to wash the blanket in the washing machine with no problems.
Temperature control, easy maintenance, and a good price might make this blanket a good choice, overall. A handful of customers did report that the filling was leaking after just a few days. Some unhappy customers were able to return it for a refund.
Here is a summary of what we learned about this blanket during our research:
Gravity Blanket: The Weighted Blanket For Sleep, Stress, and Anxiety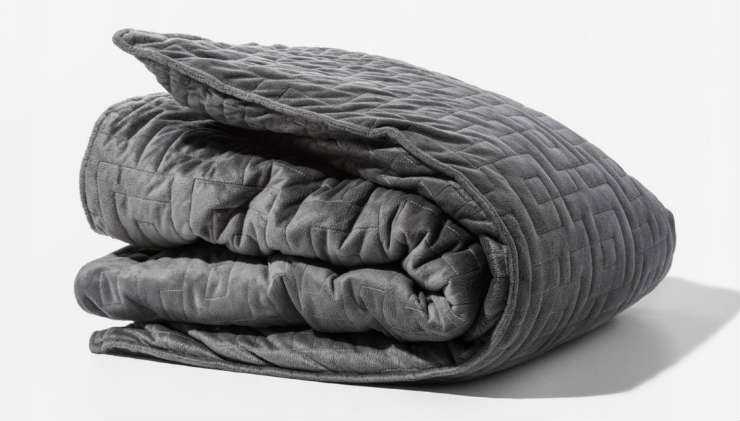 The Gravity Blanket is one of the most well-known brand names in the world of weighted blankets and was even recognized by Time Magazine as one of the best inventions of 2018. The adult sizes begin at a weight of 15 pounds and are one of the pricier options available.
Materials
There are two colors available, and each has a different filling. The gray-colored blankets contain glass beads and the navy blankets contain plastic pellets. Both colors feature grid stitching which distributes the weight evenly throughout the fabric.
Features
The blanket includes a microfiber duvet cover in the price which is machine-washable. The main blanket cannot be washed in a washing machine and should only be spot cleaned. The duvet is securely kept in place by clamps along the exterior of the main blanket that also allows it to be easily removed and reattached.
The Gravity Blanket maintains high customer satisfaction rates and remains a best-seller despite its higher price point. The weight increments of 15 and 20 pounds come in 72"x 48" measurements.
What do customers say?
Customers rate the Gravity Blanket highly in areas of comfort, softness, and weight distribution.
This blanket is great for insomnia stemming from stress and anxiety, and most customers have experienced positive changes in those areas.
One customer even reported that the blanket helped relieve the symptoms of an active anxiety attack!
A few customers expressed disappointment, saying the grid stitching made the blanket feel lumpy and not worth the price.
Here is a summary of both the advantages and disadvantages of the Gravity Blanket.
The Best Weighted Blankets for Kids
Adults aren't the only ones who can greatly benefit from the holistic advantage of deep touch pressure. In fact, the weighted blanket has been used for decades to treat children experiencing stressful symptoms from autism spectrum disorder (ASD).
Just as children can be calmed by a reassuring hug, so can they benefit from the deep touch pressure weighted blankets offer.
When considering which weighted blanket to purchase for a child, just make sure that he or she is fully capable of adjusting and lifting the blanket without assistance. Also, DO NOT USE WEIGHTED BLANKETS FOR CHILDREN UNDER TWO (2) YEARS OLD.
Weighted blankets should never be used for infants and toddlers. When choosing the right weight, the general rule-of-thumb is 10 percent of the body weight plus one or two pounds.
For kids prone to allergies, try blankets with non-toxic, hypo-allergenic fillers such as glass beads. Try using weighted blankets to treat anxiety, sensory overload, and even ADHD.
Find out more about the benefits of weighted blankets here.
Here are some of our favorite weighted blankets for kids!
Quility Premium Kids Weighted Blanket & Removable Cover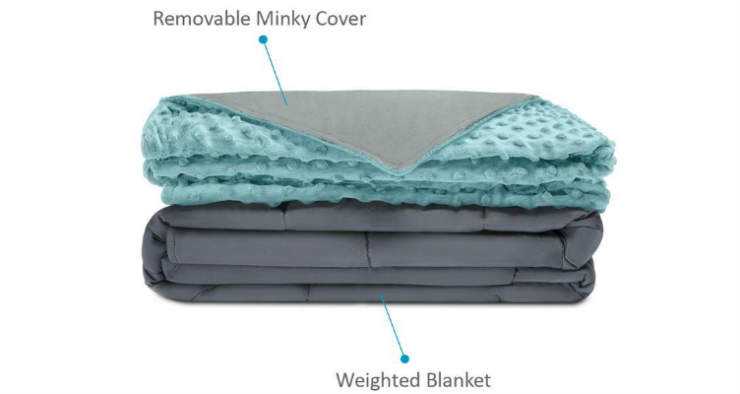 The Quility Premium Kids Weighted Blanket with Removable Cover is specially designed for children between 70 and 90 pounds. The blanket features glass bead filler and a minky duvet and maintains a remarkable 5-star rating on Amazon.
Materials
Like the adult version, the Quility kid blanket consists of seven layers that provide extra comfort, contouring, leakage protection, and temperature control.
Many kids also love the soft, minky material of the duvet that covers the cotton blanket. The duvet is available in a range of colors, such as navy, pink, aqua, ivory, and a black and white geometric pattern.
What do customers say?
This blanket comes with a 100% customer satisfaction guarantee, offering a full refund for customers not completely satisfied with the blanket after one week.
Over 6,000 customers gave the Quility blanket outstanding reviews on Amazon. One customer reported a dramatic mood improvement in her child with sensory processing issues, and others gushed about their kids getting the best night of sleep they have had in years!
In contrast to the thousands of excellent reviews and opinion of people who liked this blanket best, a few customers were unhappy, reporting an uneven distribution of the filling or unpleasant experiences with shipping.
Here's a summary of the advantages and disadvantages of the Kid's Quility weighted blanket:
Ourea Organic Weighted Blanket for Kids and Teens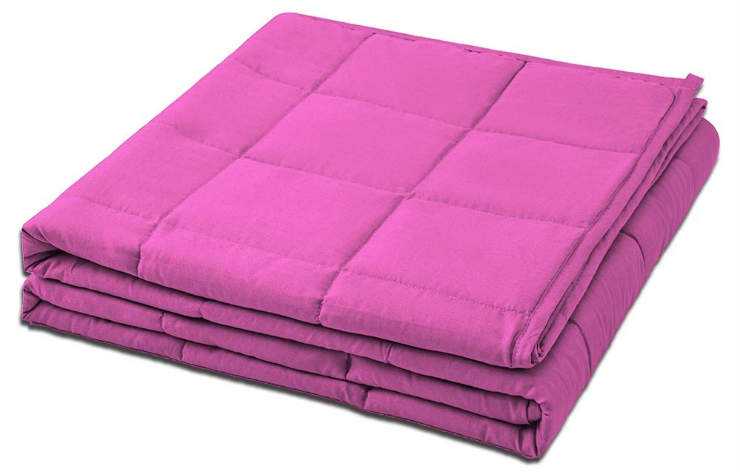 Made with all-natural cotton and micro glass beads, the Ourea weighted blanket may be a good option for kids needing to sleep better or who can benefit from the sensory input of a weighted blanket.
Materials
This blanket is made from all organic, 400 thread count Egyptian organic cotton fabric and filled with glass beads. The breathable cotton fabric helps keep kids from overheating and glass filling typically stay cooler. Kids who get hot easily or generally sleep hot during the night may benefit from the stable temperature the Ourea provides.
Features
The Ourea has a slim, sleek look and can be used as a throw while kids are watching TV or transitioning to a quiet activity like homework. Although the Ourea does not come with a duvet cover, a compatible one is available through the manufacturer for a bundle discount. This blanket is one of the most affordable options and is available in a wide range of colors.
Despite not havnig a washable cover, 100% cotton weighted blankets are fine to be washed by hand or even machine, following our maintenance guide.
In addition to the high quality of materials the manufacturer uses, Ourea also offers a 100% satisfaction guarantee and will provide a full refund to any customer not completely happy with the blanket.
What do customers say?
The Ourea weighted blanket for kids looks and sounds pretty good, so we wanted to see how the customers' personal experiences lived up to expectations.
Hundreds of customers left high ratings and glowing reviews of the Ourea, impressed by the durability and comfort of the materials and design. This blanket's excellent price point was a major factor in the good reviews but, more importantly, customers did not feel that they had to sacrifice any quality for the price of the blanket. Some consumers also reported the Ourea helping with symptoms of ADHD and anxiety, as well.
A handful of negative reviews caught our attention, though. A few consumers had trouble with the glass beads leaking after a few months.
Here is a handy summary of our research on the Ourea Weighted Blanket for Kids:
Best Cooling Weighted Blankets
Many of us are hot sleepers who shudder at the thought of added warmth at night, yet still needing the benefits of a cooling weighted blanket to help us fall asleep faster and stay asleep longer. Some weighted blankets are designed with the hot sleeper in mind and use breathable fabrics with fillers that regulate temperature well.
When choosing the best cooling weighted blanket, do not assume that weight equals heat. Remember that, to be effective, weighted blankets should be slightly more than 10 percent of the user's weight. If a 160-pound adult opts for a 10-pound blanket from fear of getting overheated, that consumer will likely never experience the deep touch pressure benefits that weighted blankets offer.
Instead, pay attention to materials. Avoid fleece, flannel, or even minky fabrics. Choose a blanket with a breathable cotton blend if you sleep hot.
Also, try to avoid blankets with extra filling or polyester layers outside of the beads or pellets. Generally, glass beads stay cooler than plastic pellets, so stay away from blankets with plastic filler. Opt for a cotton blanket that only has micro glass beads without extra stuffing.
Finally, try skipping a cover. Although they are handy for maintaining and cleaning a weighted blanket, some of those convenient covers are adding an extra layer of heat. If using a duvet, try selecting one that is a lightweight, cotton blend.
We found some of the most popular and best cooling weighted blankets to see what advantages and disadvantages they have to offer. Check out that article to see all the cooling summer products!
BABO Cooling Weighted Blanket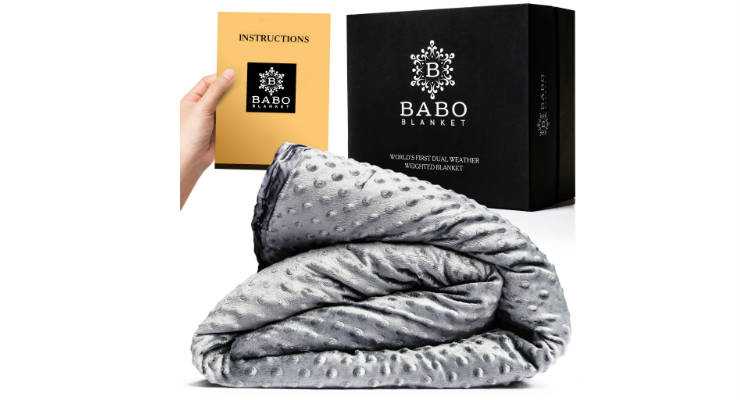 The BABO cooling blanket is a dual weather blanket, apparently two blankets in one.
Materials
This BABO blanket has two sides, a cooling side made of woven bamboo which keeps you cool during the summer months and a dotted minky side that keeps you warm and cozy during wintertime. Thanks to this, the blanket is ideal for cold and hot sleepers alike, and can be used well year-around.
Made from bamboo, hypoallergenic, non-toxic, delicate cotton, and polyester. It is also machine washable.
Features
As mentioned earlier, the unique feature of the BABO blanket is its versatile design of two sides. With even distribution of its weight, it is communicating with the body's deep pressure receptors to encourage better and deeper sleep while preventing overheating.
Weight and Size Options
Suitable for all bed sizes, this 60x80 inches blanket can be used as a throw over your bed: fits twin, full, queen and king sizes.
It is available in 15 lbs version only for now, so pay attention to the 10% body weight rule when used for sleeping. However, this blanket may be the perfect choice for everyday use on the couch while watching TV or even in the office chair.
What do customers say?
The first impression is highly positive among customers mentioning the beautiful packaging, which may be perfect for gift giving. People like the texture of the blanket, with the washable cover being an icing on the cake.
A customer with a verified purchase left a review in January 2019 that in the first two weeks of use, they slept better than ever with this blanket.
Some were being held back due to the steep price-tag, which was the only thing holding them back from the purchase. It is worth to check prices regularly as this blanket is often discounted to under $100.
Best Cheap Weighted Blanket
Although weighted blankets offer invaluable benefits like good sleep and a sense of calm, hefty price tags often deter potential customers, depriving them of the holistic benefits of deep touch pressure.
How Much Do Weighted Blankets Cost?
While investing in a weighted blanket is just that - an investment - higher price points that often exceed $200 can deter some people from experiencing this therapeutic item.
One way to cut costs is by purchasing supplies and making a Do-It-Yourself weighted blanket. Assembling and sewing a weighted blanket can reduce the cost tremendously, but it does require a significant amount of time.
For a cost-effective weighted blanket option that arrives at the front door ready to use, try the Pine and River Weighted Blanket.
Pine and River Microfiber Weighted Blanket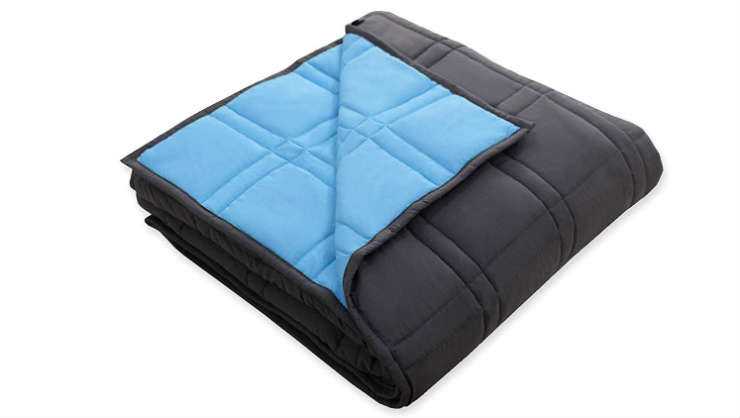 The Pine and River Weighted Blanket is a highly rated, cost-effective option.
Materials
Small grid-like pockets contain the pellet filling, evenly distributing the weight. This blanket also features ultra soft microfiber that helps regulate body temperatures during all seasons.
Features
The Pine and River is completely machine-washable and dryer safe. Just wash on a gentle cycle in cold water and tumble dry on low heat. Thanks to the material, it is also wringle-free.
Pine and River also features the more expensive cooling bamboo, warm minky, and kids weighted blankets.
What do customers say?
Most customers were completely satisfied with their purchase, reporting that the material is cool, comfortable and that deep touch pressure benefits are still present. One 11-year-old suffering from Tourettes was able to relax under the weight, benefiting from its therapeutic feel.
Other adults were able to relieve leg pain and sleep better at night.
Some customers were disappointed with the measurements, but we did not find any reports of leaking or clumping.
Here is a summary of what we learned about the Pine and River weighted blanket:
Best Premium Weighted Blanket
Since a weighted blanket should be considered a health investment, it makes sense that many consumers want to invest in the highest quality of blanket they can find. When considering which premium weighted blanket to choose, the key to success is often found in the type of materials with which the blanket is made.
Choosing a fabric that is soft and luxurious is often the first thing that comes to mind. It's important what it feels like to touch, but a blanket's filling is just as important, if not more so.
Opt for micro glass beads, as they are non-toxic, hypo-allergenic, and virtually indestructible. Look for extra touches in the manufacturing such as double stitching or extra layers that improve comfort while guarding against leaks.
We found some of the most popular premium weighted blankets on Amazon and wanted to see which benefits they offer. Here is what we found.
Sonno Zona Weighted Blanket for Natural Calm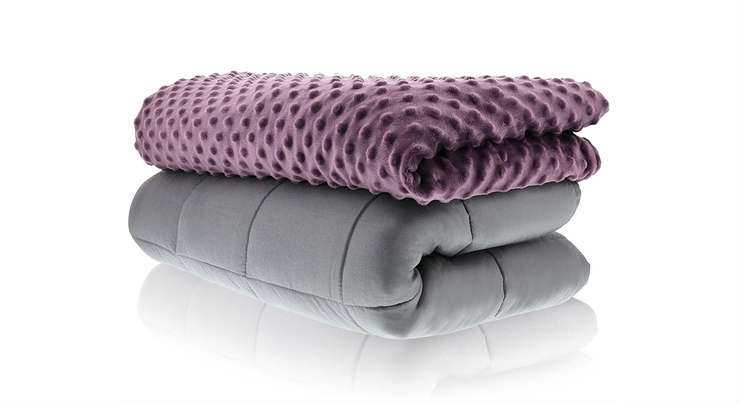 The Sonno Zona Weighted Blanket for Natural Calm uses organic sleep fabric to promote relaxation and restful slumber. With an excellent price point, it seems to be both luxurious and affordable.
Materials
Available in a variety of colors, the Sonno Zona features dual-sided materials. One side is made with silky fabric, and the other side features minky dots that offer soft sensory input.
Features
All of the fabric is hypoallergenic and the blanket comes with a duvet cover. The cover is easily attached and removed with zippers and strategically placed ties. The Sonno Zona duvet is completely washing machine and dryer safe.
The premium fabrics are great for sensory sensitive individuals who benefit in multiple ways from deep touch pressure.
Both cover and blanket is conveniently machine washable with cool or gentle warm water.
Here is a handy tutorial how to set up this weighted blanket:
What do customers say?
Customers gave this product excellent ratings in comfort, value, and sleep quality. Some users found it helpful in treating insomnia related to Restless Leg Syndrome and anxiety. A few consumers had to reach out to the manufacturer and reported that they received excellent customer service.
Some reviews were less than pleasant, noting that the glass filling was noisy and felt lumpy. Others reported having to return the item due to defective zippers.
Here is a summary of the advantages and disadvantages of the Sonno Zona weighted blanket:
The Best Weighted Blanket for Anxiety
Choosing an appropriate weight is the first factor to consider when choosing an anxiety blanket, as it is essential that the deep touch pressure receptors receive enough sensory input to calm the nervous system.
The feel of the fabric is also important in promoting a sense of calm.
Learn more about how weighted blankets can help anxiety
We rounded up some of the best-rated weighted blankets for anxiety:
Dr. Hart's Weighted Blanket Deluxe Set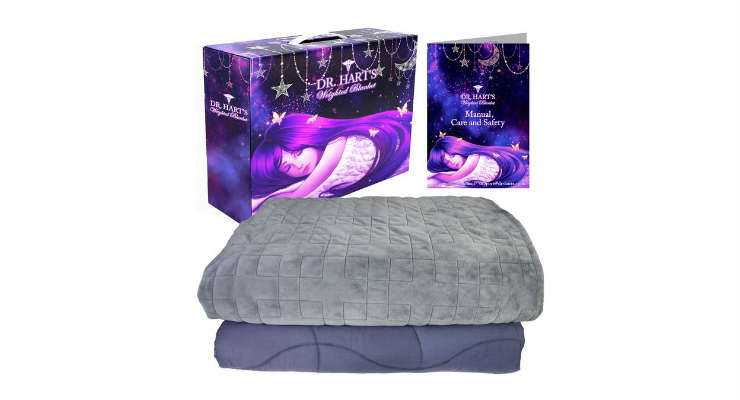 Dr. Hart's Weighted Blanket Deluxe Set is one of Amazon's Choice products at the time and includes a micro plush duvet cover.
Materials
For filler, Dr. Hart uses weights called Dream Beads, which are supposed to be odorless, non-toxic, hypoallergenic, and quiet as they rustle around inside the blanket. The filler is advertised as cooling in the summer and warming in the winter.
Features
Unique, patented technology features waves in the blanket that conform to the body, enhancing its deep touch pressure. It comes in 60"x 80" measurements, making it a queen-sized blanket.
The cost ranges depending on the weight of the blanket, but it is offered at a competitive price, considering it is designed for two people.
What do customers say?
Hundreds of reviews gave rather perfect ratings to Dr. Hart's deluxe set for quality and comfort. Nearly everyone reported sleeping better cocooned up in this unique blanket.
Several consumers also reported that it significantly eased symptoms of PTSD and anxiety, preferring it over other weighted blanket brands.
A few negative reviews mentioned the Dream Beads shifting to the center after a few uses and others found it to be too hot.
Here's a summary of what we learned from Dr. Hart's reviews:
The Best Weighted Blankets for Couples
While weighted blankets are generally designed to be used individually, some couples may want to try to share one blanket. Keep in mind that the blanket will need to be large in size and also have extra weight to distribute among two people.
A 30-pound blanket spread over two people will average out to 12 to 15 pounds each, at best. Calculate what measurements and weight you and your partner both need for restful sleep.
Here is a highly rated weighted blanket we like for couples:
Rocabi Deluxe King Size Weighted Blanket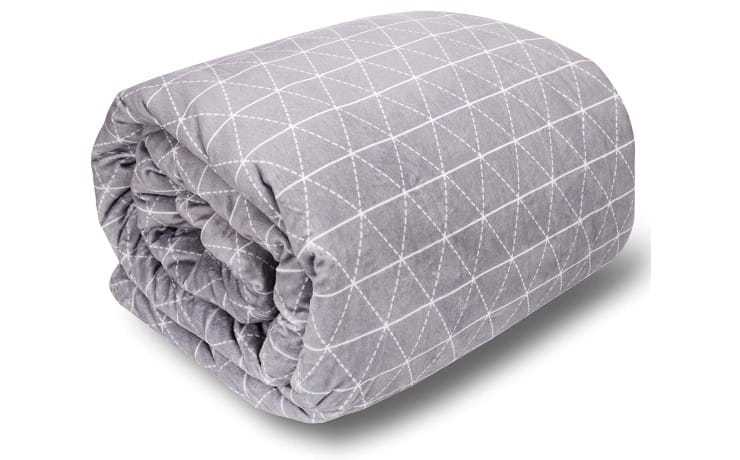 The Rocabi Deluxe King Size Weighted Blanket is another highly rated blanket for couples as well as for individuals on Amazon.
Materials
Featuring heavy glass beads and organic, cool cotton, the inner weighted quilt is as gentle to the skin as possible. On top if this, it offers a removable minky cover with textured dots for extra sensory feedback.
Features
The king size Rocabi blanket is advertised as offering an experience like being hugged by a tamed Bengal tiger. Considering the giant king size of this blanket and the optional weights of 15 lbs up to 30 lbs, we are sure it can live up to the promises.
While Rocabi offers various sizes like single and Queen, this particular king size measures 80"x 86", fitting the top of a king-sized bed.
The quilted grid pattern containing the glass beads consists of 4.7-inch squares that distribute the weight evenly throughout the large APTRAAFCLP blanket.
The manufacturer also offers a 365-day warranty and a unique and highly confident 60-night free trial return policy.
What do customers say?
Customers seemed largely happy with their purchases, leaving Rocabi hundreds of good reviews and high ratings for quality and comfort. Most consumers slept well with their new Racob blanket and were impressed with its quality.
The king size blanket was praised not just by couples, but individuals who happened to be over 6'7 and still felt comfortable using it.
A few negative, years old reviews mention an uneven distribution of weight along the edges but this must have been addressed as the current line of blankets do not suffer from this problem. To prevent clumping and leaking, Rocabi is using double stiching and corner ties.
Here is a summary of what we learned about the Rocabi King Size Weighted Blanket:
Hypnoser Weighted Blanket 2.0 King Size for Couples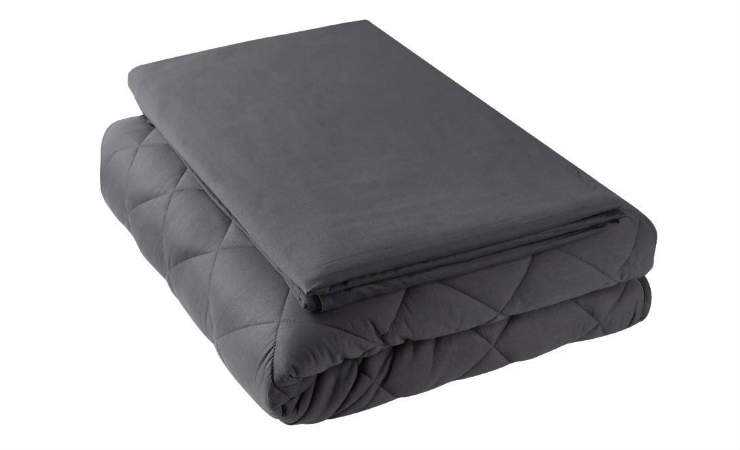 The Hypnoser Weighted Blanket 2.0 King Size for Couples is 30 pounds and measures 80"x 87". These dimensions will cover the top of a king-sized bed. It is one of the more pricey options, but keep in mind that it is designed for two people.
Materials
The materials are 100% cotton and filled with micro glass beads. The Hypnoser 2.0 may be a good option for couples who keep each other up at night tossing and turning. The deep touch pressure and gentle weight that this blanket provides can help still the body and promote restful sleep.
Features
The Hypnoser includes a washable cover that is available in gray, blue, navy, or a galaxy design. The manufacturer offers a 30-day money back guarantee if the customers are not completely satisfied.
What do customers say?
Some customers reported that they purchased the Hypnoser for individual use and just wanted it to cover the whole bed. Most reviews are glowing, reporting that this blanket helps consumers achieve more restful sleep and some even recommended it for ADHD. A few negative comments mentioned that the beads shifted within the blanket, making it uneven.
Here's what we learned about the Hypnoser 2.0 for couples:
How Do Weighted Blankets Work?
The body contains multiple deep touch pressure receptors that communicate to the nervous system.
Weighted blankets are essentially blankets with extra weights inside. Due to this added weight, it feels like you're being held or hugged. This means calmer nerves and better sleep!
For more information on how to choose the best weighted blanket, consult our Ultimate Weighted Blanket Guide.
Weight and Size
Most weighted blankets are made by stitching pockets out of a grid pattern and filling the pockets with weighted filling such as tiny poly pellets or micro glass beads.
The quilted pocket pattern helps keep the weight evenly distributed throughout the blanket.
The first question usually asked by prospective consumers is "How heavy should my weighted blanket be?" Generally, a weighted blanket should be 10 percent of the user's body weight plus one or two pounds.
For instance, a 150-pound individual would want a blanket between 15 and 18 pounds. However, many users prefer blankets significantly heavier than 10 percent of their body weight.
Typically, online purchases have weights available in increments such as 12, 15, and 20 pounds. For brand new consumers who have never tried a weighted blanket before, if the body weight percentage falls between two of the increments, it is recommended to first try the lighter option.
It may be a good idea to start light and go heavier.
As far as a blanket's measurements are concerned, remember that the dimensions should fit a person, not a bed. Usually, sizes will vary between 48 and 40 inches, as opposed to the standard twin, queen, and king bedding sizes.
We like to use what we call the Chin to Toe Rule. A good weighted blanket should cover the body from the chin to the feet.
Sometimes, half-size blankets are used as anxiety throws that drape over the shoulders or just cover the lower extremities, such as when treating Restless Leg Syndrome.
It should also be noted that no matter the size of the individual, weighted blankets should only be used if the person is able to move the blanket around easily.
Special considerations should be taken for the elderly or for individuals with disabilities that could make it difficult to maneuver the weight of the blanket.
Fabric and Filler
What is the Best Fabric
What will largely determine the overall quality of a weighted blanket is the type of fabric and filler the manufacturer uses.
Some of the most common materials include cotton, polyester, fleece, flannel, and minky.
The best fabric for a blanket just depends on preference, particular needs and ultimately what it feels like to touch.
Hot sleepers might prefer a breathable cotton blend to help prevent them from getting overheated. Users who have sensory issues or simply prefer more luxurious-feeling fabrics may prefer minky.
Filler Selection
Just as important as fabric, if not more so, is the filler in a weighted blanket.
Typically, the most common fillers are plastic poly pellets and micro glass beads.
Plastic fillers are not usually as heavy as glass beads, so more of them need to be used to reach the desired weight. Sometimes they contain trace amounts of toxins but not in dangerous quantities. Generally, plastic fillers are cheaper than glass beads, so often, blankets with pellets are less expensive.
Micro glass beads are hypo-allergenic and toxin free, but they tend to be a little more pricey. They also stay cool easier, making it a popular choice for cooling blankets or users who do not want to get overheated at night.
To find out more about weighted blanket fillers here.
Maintenance
Another factor in determining what weighted blanket to purchase is often maintenance.
How easy is the blanket to wash? Is it machine washable? Is the filling dryer safe? Some weighted blankets are completely washable and can be thrown into a household machine or taken to a laundromat when they feel like they need it. Others can only be spot cleaned.
This is one reason why duvets are popular additions to weighted blanket purchases. Simply slip off the cover and toss it into the washing machine. Duvets can reduce how often the blanket itself needs to be cleaned. Cleaning the inner blanket requires a bit more care.
Find out more about maintaining weighted blankets with this handy guide on washing weighted blankets.
Conclusion
The weighted blanket phenomenon of the past year is more than a passing fad.
Thousands of people have experienced life-altering benefits from weighted blankets and the holistic healing that deep touch pressure can offer. Because there are so many options available now, choosing one of the best weighted blankets can be a daunting task. From day to day, more and more people use a weighted blanket, and for a reason.
Decide if it is best to purchase a blanket or make one at home. The DIY option is less expensive but will require several hours of work.
If the homemade option is not the best route to take, consider the primary factor for wanting a weighted blanket in the first place, such as deeper sleep, insomnia, depression, autism, anxiety, ADHD, Restless Leg Syndrome, or Post-Traumatic Stress Disorder.
Certainly, it is an investment that should be considered carefully, but there is an abundance of information to help consumers make the right choice.
There are handy guides and websites full of information about deep touch pressure and the different types of products available. Do some research, check the product photo and material composition and read customer reviews to find the best weighted blanket today!